Product Video: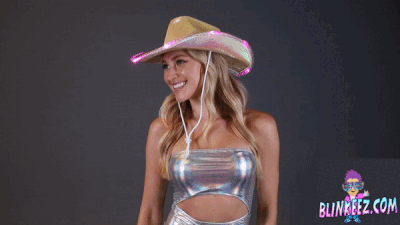 PINK Iridescent Light Up Cowgirl Hat
Code: COWBOY_PKIR
---
---
Volume Price Table
Quantity
Price
1-11
$12.99
12-47
$8.49
48-95
$8.29
96-239
$8.19
240-479
$7.99
480+
$7.49
---
Product Description
•••••
Pink Iridescent Light Up Cowgirl Hat
Boot Scoot Boogie onto the Dance Floor with these Brand New, Iridescent Light Up Cowgirl Hats with Flashing LED Brim. Unleash that inner Cowgirl (or Cowboy) within, and Light Up your Next Party, Country Western Event, Rodeo, Dance, or Festival in Style, with these Brand New Dazzling Light Up Cowgirl Hats with Flashing LED Brim.

Each Light Up Cowgirl Hat has PINK led lights that light up along the brim of the Cowgirl hat, and feature a sturdy shiny iridescent surface that that changes based on the lights reflecting off of it, for a truly spectacular light show! These unique and stunning Light Up Cowgirl Hats make for great costume or dance accessories, and sure to be a hit and an Attention Grabber, for any event or just a night on the town. These Light Up Cowgirl Hats are also great for all kinds of Events, like Country music festivals (Stagecoach, Country Summer, and more), Fairs, Carnivals, Rodeos & Western-themed events, Mardi Gras, Halloween costume parties, Holiday Events, and sooo much more.....

To Activate your Iridescent Cowgirl Light Up Hat, Remove the pull tab and Press the button on the battery house, located inside the hat. Cycle through (3) LED functions: - Flash, - Blink, - Steady

LED Colors: Pink
Dimensions (LxWxH): 15 in. x 9.5 in. x 5 in.
Batteries: (2) replaceable CR2032 Batteries.

One size fits most!

Please Note:
The Black Ribbon Band around the Base of the Hat is just for demo purposes, and is used in some photos strictly for demo purposes, and will not ship with the Black Ribbon.
Don't Forget To Check More Light Up Flashing Cowboy Hats HERE!