Product Video: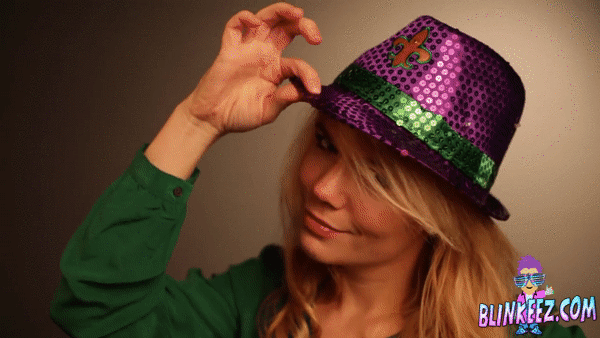 Purple MARDI GRAS Flashing Sequin Fedora Hat with Flashing JADE LEDs
Code: FEDORA_MG
---
---
Volume Price Table
Quantity
Price
1-11
$8.49
12-47
$5.99
48-95
$5.89
96-239
$5.69
240-479
$5.49
480+
$5.44
---
Product Description
•••••

MARDI GRAS Flashing Sequin Fedora Hat with Flashing JADE LEDs

These Brand New MARDI GRAS Flashing Sequin Fedora Hats are the hottest in Mardi Gras fashion. Wear this super stylish Light Up Flashing Fedora to any Mardi Gras Event, Party or Gathering, or anywhere where you can really show off! The LEDs reflect off the sequins for an amazing, awesome one of a kind light show.

Perfect Hat for MardiGras!
Mardi Gras Sequin Fedoras with Flashing Jade LEDs are crazy cool party favors for Mardi Gras or Fat Tuesday Events. Similar to our original style LED Fedora Hats, LED Mardi Gras Fedora Hats are accented with a Fleur de Lis patch, plus the JADE LEDs are bright enough for daytime celebrations as well!

To Activate the Mardi Gras Fleur de Lis Fedora Hat, Press the button located on the battery pack inside the Fedora Hat. Set the sequin hat on a random light flash, blink, or steady light. These unique MARDI GRAS Flashing Fedora Hats will truly stand out!

LED Colors: 5 JADE

Batteries: Mardi Gras Fedora hats with Flashing Lights includes (2) replaceable CR2032 Batteries.

One size fits most.

Case Lots: 24 pcs/ctn

Don't Forget To Check Our More Light Up Flashing Hats HERE!