Product Video: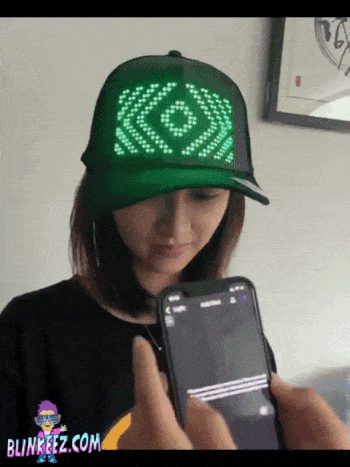 New! LED Programmable Message Hat (Larger Colorful Display)
Code: LEDHAT_MESSAGE-LG
---
---
---
Product Description
•••••
NEW! 2022 Programmable LED Message Hat

(w/Larger Colorful Display Screen)

!! SPECIAL INTO PRICING!!
Regular Pricing $49.99!
Today Only $39.99! For A Limited Time Only! Price Going Up Soon! - Offer Ends Soon!

These programmable

LED Message Hats

will be the talk of the town! You will gain instant attention anywhere you where it! These Programmable LED Message Hats were the coolest product of 2022 and will continue to be the Hottest LED Product of 2023 and into the future, with its unique ability to Custom Program your Unique Message or Design on the Top of your Hat, and Draw Attention or Promote any Message you want, anywhere you go!
You will Fall in Love with this Hat, Guaranteed! ;)
These

Programmable LED Message Hats

are great for Advertising, Corporage Event or Group Activities, Publicity or Stage Show Events, Birthday Parties, Dancing, DJ Events, Raves, Parties, Concerts, Festivals, Tours, Night Sports, Golf, Halloween, Christmas, Graduation, and so much more.....

These

LED Message Hats

are also great for UV Protection in the Summer Time and Night Time Baseball Games or Sporting Events... You can even promote your favorite Sport Teams on them, and Show Your Team Spirit!

Product Name:LED Message Hat/LED Display Cap/Magic Hat

Color: Black
Material: Cotton,
LED Screen Size: 170x70mm
Resolution: 16 * 32 pixels
Edit Mode: Bluetooth Mobile APP
Charging Type: USB Port
Battery Type: Lithium Battery
Product Features:
- The cap is made of high quality cotton, good breathability. Light, convenient, edit content any time and anywhere, the effect is eye-catching
- Controlled by APP: Connect the hat to smartphone via Bluetooth, support Android and IOS phone system, customize text display, easy to control
- Charging the LED Message Hat is super simple with USB Cable (provided) and Lithium Battery Power Supply.
- Soft and comfortable, one size fits most!
More Features through Special LED Message Hat App:
- Mobile APP Bluetooth connection (1 mobile phone can connect 2hats)
- Support language: English, Chinese, Japanese, French, German,Spanish, Korean, Russian, etc.
- Text mode: can display 80 English characters, and Emojis as well, through mobile app
- Animation mode: Multiple Animations included in mobile app
- Music mode: Music Equalizer display, the phone song automatically syncs
- Text scrolling function
- DIY (Do-It-Yourself) editing: custom drawing, draw the animation you want to display

Product Demo - Custom Text - Animated Designs
- Product Demo, Coming Soon
** The color of the LED lamp beads is Multicolor, unlike alot of other led hats on the market, which are just 1 color LED. We use high quality multicolor leds, to give a more visual effect than just 1 color leds... So Beautiful and Eye Catching with the Multicolor LEDs ;)
** When you first receive your

LED Message Hat

, If you can't Turn ON, It could be the hat is out of power. Go ahead and Charge it, and then should Turn ON!

** If you do not use it frequently, please charge it once every 2 months to avoid battery damage.
** The real color of the hat may be slightly different sometimes from the pictures shown on website caused by many factors such as brightness of your monitor and light brightness, etc..
Charging your LED Message Hat:
Chargeable

-

It takes 2-4 hours to fully charge and using time up to 6-8 hours,

depending on modes being used etc

...

If the hat you received is can not use, please charge it first, then turn ON and use it.
Basic User Hat Guideline:
- To Turn ON your

LED Message Hat

, Press and Hold the Power Switch Red Button (located in the base of the hat) for 3 Seconds.
-
To Turn OFF your
LED Message Hat
, Press and Hold the Power Switch Red Button for 3 Seconds, Hat will Power OFF.
- The LED Message Hat is designed to be used together with the Phone APP. See Below for App Instructions.
- Access App, and Customise your message on the hat via app. (All language supported)
- Have Fun with it & Be the Star of the Party/Show! ;)
Basic User App Guideline:
- Scan QR Code on hat/instructions to download App (support Android & iOS devices)
- Ensure Bluetooth is Turned ON in your Phone Settings.
- Open "Cool LED 1248" App on Phone to Use the App with the Message Hat.
-
Any Questions? Please Feel Free to Reach Out To Us!
- Allow the application the access to your phone, photos, sounds, and your Bluetooth.
- Have Fun with it & Be the Star of the Party/Show! ;)
Whats Included:

1 x LED Message Hat
1 x USB Cable
1 x User Manual/Instructions
Full Support


**
If you have any Questions about your LED Message Hat, Please feel free to Contact Us, we will reply to you usually within 24-48 Business hours.**