Light Up LED Fiber Optic Face Mask (USB Rechargeable)
Code: LED_FACEMASK
---
---
Volume Price Table
Quantity
Price
1-3
$19.99
4-6
$16.99
7-11
$14.89
12-71
$13.89
72-143
$13.44
144-287
$12.89
288+
$11.99
---
Product Description
•••••
Light Up LED Fiber Optic Face Mask (USB Rechargeable)
Now you can be Super stylish and Safe & Protected with our New White
Rechargeable Luminous 7 Color Light Up Face Mask
! This Fun LED Light Up masks have a pleated design with fiber optics intertwined into the fabric to create that luminescent starlight quality. Bright enough to be an instant hit in any crowd, environment, or event, whether it's a small get together, to parties and raves, Halloween, or even going on a night run, but not too bright to be blinding. Super Great fun for all ages....
These LED Face Mask fits comfortably over the lower half of face and is secured in place via elastic ear straps. Comes with a USB charging cord and a super convenient tote carrying bag, to carry with you wherever you go.
This LED Light Up Mask is USB rechargeable.
To Activate your Light Up Face Mask, Press the POWER button located on the left side of the mask. POWER button can be hidden in a small pocket inside the mask. Cycle through (11) Fun LED functions:

(7) Steady color combinations
(4) Flash / Color Changing combinations
These Light Up LED Masks are great for:
Great for...
- Night Running
- Dancing
- Raves
- Clubs
- Parties
- Festivals
- Concerts
- & More.....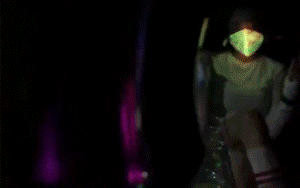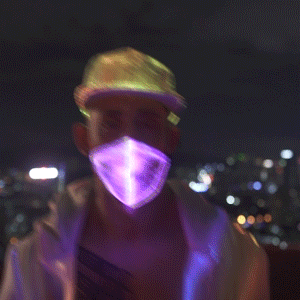 Caring for your product: Spot clean or scrub with a wet towel/small toothbrush if necessary! (do not knead or twist). Keep the battery away from water. Gentle and cautious HAND WASH ONLY. Hang dry in a ventilated place and do not use a dryer or iron.