Black Flashing LED Gloves - GREEN LEDS (One Pair)
Code: MITT_G
---
---
Volume Price Table
Quantity
Price
1-4
$10.99
5-11
$9.99
12-24
$8.99
25-49
$8.49
50-99
$7.99
100-199
$7.49
200+
$6.99
---
Product Description
•••••
Flashing LED Gloves ELITE VERSION (aka Magic Mitts) - (Black Gloves) LEDs (One Pair)
Flashing LED Gloves (aka Midnight Mitts, Magical Mitts, Magic Mitts, Rave Gloves)
GREEN - LEDs (One Pair)
Great for Christmas & Holiday Events!~
IN STOCK - READY TO SHIP!





To Learn More about the New Redesigned Robust ELITE Version LED Gloves, Click HERE!

With a Brand New Elite Robust Controller Box, Pull Out Drawer for Batteries,
and Durable Switch to Activate Your Multi-Mode Strobes!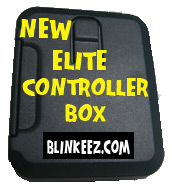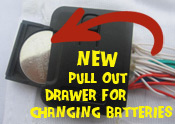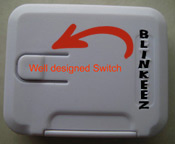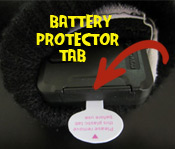 Great For Halloween, Holidays, Raves, Parties, Festivals, BBQs, Camping, Theme Parks, Vending,
Dance Routines, Cheer, Light Shows, and Much Much More.

The Black LED Gloves are black with white fingertips, so the Light can shine through.
The black makes your hands disappear to focus attention on the light coming from the finger tips.
The dark color also hides dirt and grime.

These NEW Elite LED Gloves have all GREEN LEDs in the tips!
You get to Control the modes with a New Redesigned Switch on the Controller Box.
You can cycle through all the Amazing Strobes in each Glove, and Create tons of amazing Patterns and Designs.
The Black LED Gloves are very stretchy and fit almost every hand.
Each Glove contains super powerful LEDs and Amazing Patterns at Unbeatable Low Price.
Be the First to Have a pair of NEW Elite Version LED Gloves with New LED Color Combinations!



More Info:
- Each pair of LED gloves features 3 flashing modes:
Rapid Flash, Slow Flash, Steady On, Only Flashes GREEN LEDs
- The switch that operates these modes is on top of the controller box and has been redesigned for durability.
- Make crazy tracing patterns with your hands in the dark
- Stand out! Be seen over 1/2 mile away.
- (2) CR2016 batteries are included and replaceable.
- One size fits most (excluding very large or very small hands)
- Gloves measure 7.5 inches in length and are made with a cotton/poly blend that stretches
- Comfortable Stretchy, breathable material allows for maximum comfort
- Run time is determined by mode. Generally 8+ hours.

1 pair of LED gloves per package. Batteries included (2 x CR2016)
Replacing Batteries with our NEW Elite Version LED Glove is a snap with the pull out drawer
No need to fuss with a screwdriver tool to get inside the controller box. It is now simple and effortless!

Midnight Mitts are not intended for children under 10.
Washing gloves will result in defective functions.
Blinkeez.com will not be held liable for damaged product due to improper use.
Order Your Pair of LED Flashing Midnight Mitt Gloves
and Stand Out from the Crowd!
~ Everyone Will Be Envious! ~
Looking for a Custom Color Combination for your LED Gloves?
Need Custom LEDs for a School or Dance Function?
Call or Email Us - We Do Custom Gloves!