Product Video:
XO Mitts LED GLOVES - SILVER SEQUIN RED-WHITE-BLUE LEDs
Code: MITT_XOSSRWB
---
---
Volume Price Table
Quantity
Price
1-5
$12.99
6-11
$11.99
12-24
$10.49
25-49
$8.49
50-99
$7.99
100-199
$7.29
200+
$6.79
---
Product Description
•••••

Flashing MICHAEL JACKSON LED XO Mitts (aka Skeletal Gloves, Xbone)


Popular Michael Jackson Silver Sequin Glove Design
with LEDs that light up the Entire Finger, Not Just the Tips!
GREAT FOR 4th of July, Memorial Day, and Summer Fun!
AVAILABLE NOW - IN STOCK!
Be the First to Have these Brand New SILVER SEQUIN XO Gloves
in Patriotic Red-White-Blue LEDs!

Flashing LED Gloves with a Twist our XO Mitts are Out of this World, Crazy!
Lighting your hands has never been easier, cheaper, or more fun!
LED Gloves like you've never seen! XO Mitts are HOT~!

The Evolution of LED Tehnology continues yet again, with our
NEW Silver Sequin LIne of Crazy XO LED Gloves.
Each pair of these Amazing XO LED Gloves comes with 5 distinct lighted channels or bands
which start at the wrist and illuminate out to the fingertips.
Choose one of Several different modes or settings for your glove, to create that truly mesmerizing effect
sure to amaze any crowd.

The XO gloves are fragile and must be treated delicately to keep long lasting.
This glove uses the All New & Improved Elite Controller Box, and Elite Design.
To Learn More about the New Redesigned Robust ELITE Version LED Gloves, Click HERE!

These BRAND NEW - XO Mitts are Just Like our Silver Sequin Gloves HERE!
But with an Added Twist of the Lighted Channels that Illuminates the Entire Finger instead
of Just the Tips of the Fingers, for an OUT-OF-THIS-WORLD Light Show Experience.

Great For 4th Of July Raving, BBQ's, Picnics, Summer Events, Dances, Parades,
Halloween, Raves, Holiday Parties, Camping, Theme Parks, Vending, Fundraising, and Much Much More.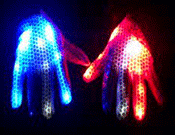 Order Your Pair of LED Flashing XO Red-White-Blue Silver Sequin Gloves Today!
and Stand Out from the Crowd!
~ Everyone Will Be Envious! ~

Specifications:
- Each pair of LED gloves features multiple flashing modes.
- The switch that operates these modes is on top of the controller box and is easy to find.
- Make crazy tracing patterns with your hands in the dark
- Stand out! Be seen over 1/2 mile away.
- (2) CR2016 batteries are included and replaceable.
- One size fits most (excluding very large or very small hands)
- These gloves will run slightly tight and measure 9"
from the end of the wrist to the tip of the finger.
- Run time is determined by mode. Generally 8+ hours.

1 pair of LED gloves per package. Batteries included (2 x CR2016).
The New Elite Style Battery Box, makes changing Batteries a snap!
Just pull out the Battery Drawer, and Replace the Batteries!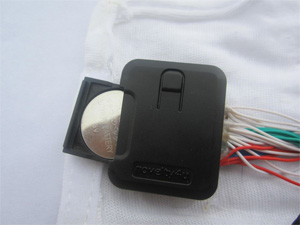 Magic Mitts are not intended for children under 10.
Washing gloves will result in defective functions.
Blinkeez.com will not be held liable for damaged product due to improper use.
Available Exclusively by BLINKEEZ.com

Don't Forget to Order Extra CR2016 Batteries for your XO Mitts HERE!